If you're just starting out as a therapist using scripts for hypnosis can be an enormous help in your early days. And on this page I've got the largest collection of Ericksonian hypnosis scripts in the world!
I used hypnosis scripts myself for the first year or two after qualifying and they helped me hone my hypnotic language skills. Using a script for the hypnosis part of the session can help you avoid those awkward moments when you don't know what to say.
Of course, with experience you'll learn to utilise silence in the sessions and be able to rely on your own unconscious mind to 'fill in the blanks'. And you will reach a stage when you don't need scripts anymore.
But until then, using a script as a back-up can give you extra confidence and help you come across as professional with each and every client you treat.
So, on this page I've listed over 600 hypnosis scripts that you can use for symptoms people typically seek hypnotherapy for.
Scroll down to see the whole list or tap the banner below for more info…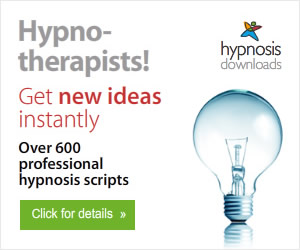 Why I used hypnosis scripts in my early days as a hypnotherapist
I still remember the nervousness I felt in my early sessions with clients some twenty years ago.
I always made sure I had a few techniques up my sleeve and a script or two close to hand, just in case.
The thing is that nerves can get the better of anyone, interfering with our ability to perform competently. As a hypnotherapist you want to look as though you know what you're doing!
This helps build trust in the client – one of the cornerstones of a healthy therapeutic relationship, without which good outcomes are unlikely.
So, whether it's a hypnosis script to stop smoking, lose weight, boost confidence, overcome depression or stop nail biting (to name a few) the scripts here will give you some reassurance in your early days as a hypnotherapist.
And even if you have years of experience, a script can still be helpful sometimes. Perhaps you feel stuck with a client and need a new idea? A script could give you that. Or perhaps you have a new client with a problem you've never encountered before? A script could prove invaluable.
Why these hypnosis scripts are different
You might have seen elsewhere on the 'net hypnosis scripts that are free to download. Although these might have some use they don't highlight the subtleties of voice inflections, pauses, embedded commands etc. that make all the difference with a quality script.
And many of these free scripts use old 'authoritarian' language: "You are getting sleepy…you are going into trance…"
You get the idea.
Scripts should not be read verbatim, of course, but should be adapted to the client you're working with, making what you say personal to them.
All the hypnosis scripts here have…
Ample space where you can write down your own ideas, notes, and adaptations to suit each particular client
Clear instructions for speed delivery – starting off at a normal pace and gradually slowing down to a more 'hypnotic voice'
Markers that indicate where you should pause and be silent for a while, allowing the client's unconscious to process what you've been saying
Highlighted sentences, words, and phrases that serve as embedded commands or post hypnotic suggestions
And all scripts are written with Ericksonian-style, 'permissive' language patterns
N.B. You'll know that Milton Erickson used a conversational, permissive approach as opposed to the old school, authoritarian approaches. Instead of, "You will go into a trance," he would use permissive suggestions such as, "I don't know whether you'll go into a deep trance...or a light trance…or somewhere in between…or just how soon that will happen…" (I've emphasised the indirect commands in bold).
Permissive language patterns help the client feel more in control and offer them choices rather than being told directly what to do. Most clients will prefer this approach.

Hypnosis scripts library
There are over 600 scripts here, so please take your time to browse through the whole list.
Have your client in mind as you do so; it's uncanny how YOUR unconscious can be drawn to the perfect script for that client.
All the hypnosis scripts here include a pre-hypnosis 'chat' that sets the tone for what is to follow and each script is formatted for rhythm, speed, and emphasis.
Every script comes in PDF format, making it easy for you to print off and then amend to suit your individual clients.
Ready to move beyond hypnosis scripts?
If you're ready to put the scripts aside and develop more advanced hypnotherapeutic skills, check out the online hypnosis training courses from the people who trained me.
There are courses in hypnotherapy and psychotherapy, conversational reframing, how to lift depression and low self-esteem, and a course about the Rewind technique to help clients with trauma, PTSD, panic attacks, and phobias.
As an affiliate to the company that produces these hypnosis scripts and courses, I will earn a small commission if you purchase a script or course via the links in this Therapist Resources section – at no extra cost to yourself. My full Affiliate Product Disclosure Document can be read here.
Back to Resources for Therapists
PLEASE SHARE MY POSTS AND PAGES ON YOUR SOCIAL MEDIA