Home » Hypnotherapy Reviews and Testimonials » Stop Smoking with Hypnosis
Helping people stop smoking with hypnosis is something I've been doing since first setting up my practice in 2002.
It seems to be 'bread and butter' to most hypnotherapists and it's easy to understand why the New Scientist Magazine reported that hypnosis had the best success rate in helping people stop smoking…
Addictive behaviours are driven by the unconscious mind – not the conscious mind. Hypnotherapy works directly with the unconscious mind in order to change such behaviours.
The truth is that it's very difficult to break free from addiction just by using conscious willpower. You have to access something more powerful than willpower for any lasting changes.
Using hypnosis helps you to access the emotional energy needed to make changes stick. This is vitally important in your desire to quit smoking.
You've got to get clear on your motivations to quit – the reasons why you're stopping smoking – and use your emotions to boost your desire to break free.
These days I no longer work in-person with smokers. However, the next best thing is the online course Ten Steps to Become a Non-Smoker. The course uses the same approach I used in my twenty years of helping people kick the habit.
I'll say more about this course below.
For now, let's look at a sample of genuine testimonials I've had from clients over the years that shows the success of using hypnosis to stop smoking…
To note: full names have been withheld for obvious reasons of confidentiality!
Stop Smoking with hypnosis – testimonials…
Here's what C.W. of Stowmarket had to say…
"I started smoking at 13, and despite numerous attempts down the years to quit using various methods, I was unsuccessful for any length of time. At 36 I decided it was high time I stopped, so I turned to hypnotherapy.
After one session with you, I no longer had the urge to smoke, or even to pick up a cigarette.
I experienced none of the usual withdrawal symptoms or cravings, and found it very easy to stop. I have no doubt that I am now a non-smoker for life. I felt some health benefits almost immediately, and this will only get better over time – and my purse is healthier too!"
---
"Just to say thank you so much for helping me in my quest to give up smoking and cutting down on alcohol. You are a genius. I have not smoked since March (yippee) and now have little desire for my usual white wine." C.B. Stowupland
How hypnosis can help you stop smoking
So, you might be wondering how hypnosis does this. What exactly happens to create such changes?
The key – as stated above – is in changing unconscious patterns and associations. This is what hypnosis helps you to do.
By using hypnosis you access the REM state – the optimal programming state – where you can change beliefs so much more easily than just by using willpower.

Let's see what C.A. of Bury St. Edmunds had to say after using hypnosis to quit smoking…
"I want to thank you so much for the help you gave me to stop smoking. I would never have believed it could be so easy but you made me see what I was doing to myself and gave me the confidence to stop…
It has been nearly three months and I feel like a new person. I have joined a gym and go 3 /4 times a week with the money I am saving from not smoking and am really enjoying exercising, my breathing is much easier and the tightness in my chest has gone.
I no longer wake up in the morning coughing and seem to have a better sense of taste and my food even tastes better. It is great to know that I, and my clothes do not smell of smoke and I do not feel an outcast anymore.
I cannot believe having been a smoker for 35 years that hypnotherapy would help me stop with such ease, especially as I gave up for four years but craved a cigarette every time I saw someone smoke; now it doesn't bother me when colleagues at work light up.
I just know I will never smoke again. I cannot thank you enough…many, many thanks." C.A. Bury St. Edmunds
---
"…we are letting you know that since our visit to you we have not had a cigarette! We are feeling very smug about it but we couldn't have achieved this without your help. THANK YOU." M.A. and R.D. Milton Keynes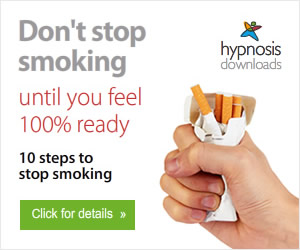 The science behind stopping smoking with hypnosis
Don't just take my words for it, or the words of my clients…
Back in 1992 the largest ever research experiment was conducted into different ways of stopping smoking (1).
And guess what?
Hypnosis proved to be the most successful way to quit the habit. It was shown to be five times more successful than using willpower and nicotine replacement products, such as gum and patches.
Since then, more advanced hypnotic methods have been developed to make success rates even better.
Another client testimonial backs the science: this is what L.W., also from Stowmarket, had to say after stopping smoking with hypnosis…
"It has been 7 months now since I came to see you for help with giving up smoking and I can report that I have not had 1 single cigarette in that time, despite working with and socialising with smokers!
I have smoked on and off (mostly on!) for nearly 30 years and although I have stopped smoking 3 times, I always went back to it and never really believed that I could kick the habit completely.
I tried most forms of NRT – gum, patches and tablets and although they helped with the physical cravings it was the emotional side that I needed help with – I needed my brain to be "programmed" to forget that I smoke and that is exactly how I felt after my hypnotherapy session.
Despite some fairly stressful times recently when I would traditionally have started smoking again, I could draw on some of the information and scenarios that I received from you and that certainly convinced me not to start again!
Thank you for giving me my life back and no longer to be "ruled" by smoking. I certainly feel much healthier and never give nicotine any thought, other than being relieved that finally I no longer need it – there is life after smoking!"
---
So, that's what hypnosis does. It helps people just like you to break free because it re-programs unconscious belief patterns and associations. You start to see smoking for what it really is.
And when you do quit the habit, what will be different in your life?
What will you be able to do that you can't do now?
What is motivating you right now to want to break free from cigarettes?
Ten Steps to Becoming a Non-Smoker
Since the COVID-19 pandemic I have changed the way I work.
I no longer do 3-hour in-person stop smoking sessions but instead recommend the excellent online program from the people who trained me.
Ten Steps to Becoming a Non-Smoker is an online hypnosis program that changes your unconscious mind's association with cigarettes.
You get 10 different hypnosis downloads and a workbook to monitor your journey to freedom. You can do it at home and at your own pace so there's no pressure to quit smoking on a certain day.
As someone who has had training from the developers of this course, I believe it's the best on the market.
The program works by powerfully changing the way your unconscious mind perceives smoking. Once the reality is known by your unconscious mind, the desire to smoke disappears.
And with a 90-day money back guarantee there's nothing to lose – only your smoking habit!
Do please check out the course if you are serious about quitting the habit! It could save your life!
I'm being totally serious here…
Smoking causes over 4 million deaths per year worldwide. Yes, FOUR MILLION. Don't let yourself be one of them.
Even though I'm no longer seeing smoking clients in-person, the online hypnosis course is something you can do at your own pace to help you break free from the tyranny of the tobacco industry.
You owe it to yourself – and your loved ones – to make a real, determined effort to quit. Hypnosis could be the key to your freedom.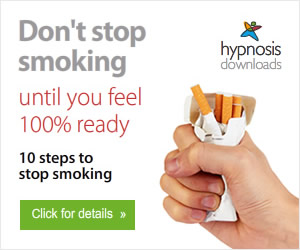 ---
As an affiliate of Hypnosis Downloads, I'd like to add that if you do purchase the stop smoking course via any links on this page I'll get a small commission – at no extra cost to yourself. You can read my full Affiliate Product Disclosure Document here.
Note:
(1) The New Scientist's report into stopping smoking: https://www.newscientist.com/article/mg13618450-700-how-one-in-five-have-given-up-smoking/
Back to Reviews and Testimonials
PLEASE SHARE MY POSTS AND PAGES ON YOUR SOCIAL MEDIA